Happy Monday Everyone! It is the third Monday of the month which means I get to host the challenge at Splitcoast Stampers.
So, I am not sure about you but I love the look of mixed media, but I am not very good at at (or if I am honest, I am scared of it…). Today's challenge technique can be used one of two ways. ONE is to create a mixed media-ish look, or TWO, just to add random texture to any card.
This technique is hammed embossing. It is fun and simple so get ready…
IT'S HAMMER TIME!
FIRST – You will need your paper, ink, embossing folder, and an image or sentiment.

SECOND – Ink up your background, (This can be as simple or complicated as you want it to be.)


THIRD – Insert your background into an embossing folder and with your hammer tap in random spots – you need to tap firmly but don't pound or you can crack your folder and I mean really, what did that poor embossing folder do to you??
NOTE: I find that if you use thinner paper (I used Bristol not thick watercolor paper) and if you don't do it on top of your pad of paper (like in the picture 
) the imprint is better.
Also, I like to open the top very gently to make sure I have enough embossing and if I want more, I close it back and tap in a few more places.

Once you are happy with the results, you can either be done or you can step it up… I like to take an ink blender and ink (the Distress Oxides work great, but any ink should work) and VERY lightly run over the raised areas so they POP!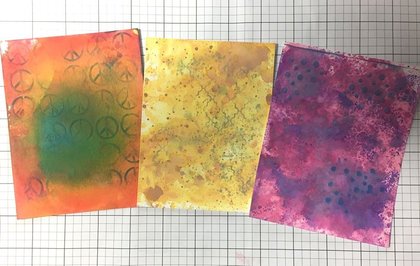 Now you are ready to put together a card!!
Here are my samples using the three backgrounds above.


I'd love you to come play along with the challenge. Check it out HERE!
I hope you are inspired! Have a great one!
Lyn